Luna - The School Dog
Luna
Luna was born on April 11th 2019. Her mother is Zola, a kind, caring dog who had been visiting schools herself, as a therapy / reading dog. Zola and the father of Luna are pedigree working / gun dogs. Prior to Luna being born I visited Luna's breeder, with Luna's vet, to meet Zola, see the environment she was to start her life in and hear the philosophy of the breeder. We were both impressed and the vet was extremely happy. We both felt confident this was someone who really cared and wanted this to be a successful project.
Luna's breeder was delighted when she found out I wanted a school dog. As Zola had already been in to schools she had seen the value of a kind, friendly and welcoming non-judgemental spirit in school. As a retired Special Educational Needs teacher she understood the value of schools having Luna in school. Luna was chosen specifically for her role in school. From a litter of eight the breeder knew instantly what was needed from a dog in a school environment in terms of temperament, intelligence and behaviour. She chose well – we managed to get the pick of the litter!
Luna started in school straight away – 8 weeks old. The thinking behind this decision was to acclimatise her to her working environment. I chose the second half of summer term as it meant warmer days, SATs were over and the holidays weren't far away.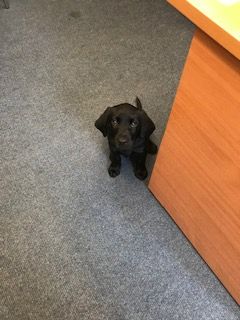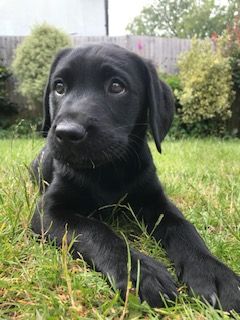 What a success it has been! She is loved by all. Luna has a wonderful nature and is delighted to be in school. She has already made a difference to children's lives and they revel in seeing her in school. The adults love her too.
In terms of her welfare she was immediately seen by her vet and she sees them regularly for a health check-up. She is microchipped and has an excellent Hip score. She has also had all her inoculations and is appropriately insured – both with Petplan and also Public Liability insurance.
Luna will have a wonderful life. She spends her day in our beautiful rural school being walked, stimulated and generally doted on (whilst working – of course). She is based in my office. Sometimes she goes walking with a professional dog walker with her and her other dogs. Luna returns to us happy – but shattered! She then comes home with me every day and is cherished as a family pet.