Governing Body
An overview from our Chair of Governors – Mrs Helen Parrott
On behalf of all of the Governing Body, a warm welcome to our new students and parents; please let us extend our thanks once more for your continued support of the school and its wider community.
Over the last year, the school has continued to build upon its successes in all aspects of school life. Droxford continues to be a happy school where its pupils thrive. Being part of the wider community and seeing the staff, children and families enjoy everything that Droxford has to offer continues to bring us all great pleasure.
We said farewell to our Chair of Governors, Kate Couldwell and our Deputy Chair, Vicky Hill at the end of last term. They brought a wealth of experience and insight to the Governing Body, and we thank them for their time and wish them all the best for the future. We are all looking forward to the new academic year and continuing our work as Governors to support the staff and retain our focus on Droxford being the best choice for all families in our community.
Our Governing Body is made up as follows:-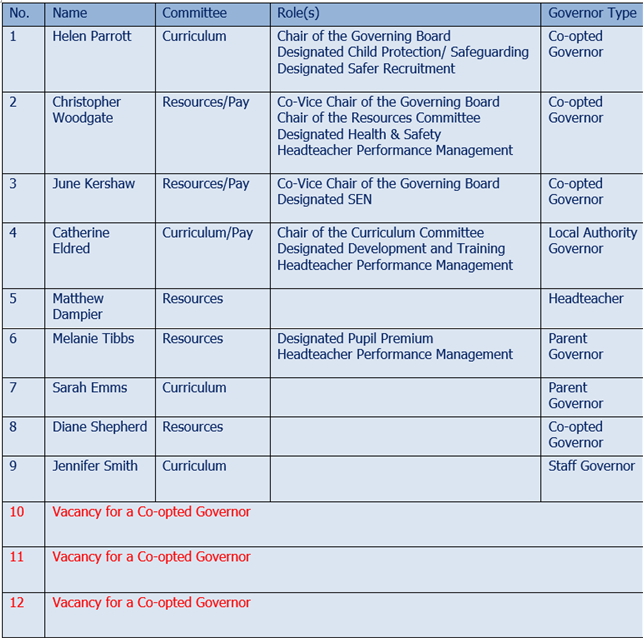 We aim to maintain strong links between families and the school, and welcome any comments or suggestions from parents. Anyone wishing to get in touch with the Governing Body should contact the School Office, or email our Clerk, Miss S Madgwick, at clerk@droxford.hants.sch.uk.
VACANCIES
For more information on the role of the Governing Body, and becoming a Governor, please visit: Hampshire County Council – Becoming A Governor
Co-opted Governors
We are looking for three Co-opted School Governors to join our Governing Body. Would you like to volunteer as a Governor and make a difference to the lives of children in your community? You do not have to be a parent or in education to be a School Governor, we value a diverse range of skills and perspectives.
Any Parent Governor vacancies will be advertised and all parents will have the opportunity to put their name forward for election.
If you are interested in becoming a School Governor, please contact Miss S Madgwick to arrange a visit of our school.