Governing Body
An overview from our Chair of Governors – Mrs Kate Couldwell
As Chair of Governors I am very proud of the achievements of our school community. Droxford Junior School is a highly successful school.
The governors are strongly supported by a large team of outstanding people, including our strategic leadership team and our teaching and support staff. This team also includes: teaching assistants; administrative staff; extended schools staff; lunchtime supervisors and catering staff; and our caretaker and cleaning staff. In addition we continue to receive fantastic support from FODS, parent helpers, and, of course and very importantly, our children and their families. Working together, as a strong team, will continue to keep our school successful – both now and in the future.
As you can see it takes many 'cogs' to run a 'well-oiled' machine! It is vital we all work together. The role of the governing body, as one of those 'cogs', is to support and challenge the headteacher to ensure that the machine is well-maintained and, where possible, improved. Our ultimate aim is to continue to provide an outstanding education for each and every one of our children – "to inspire and educate for life".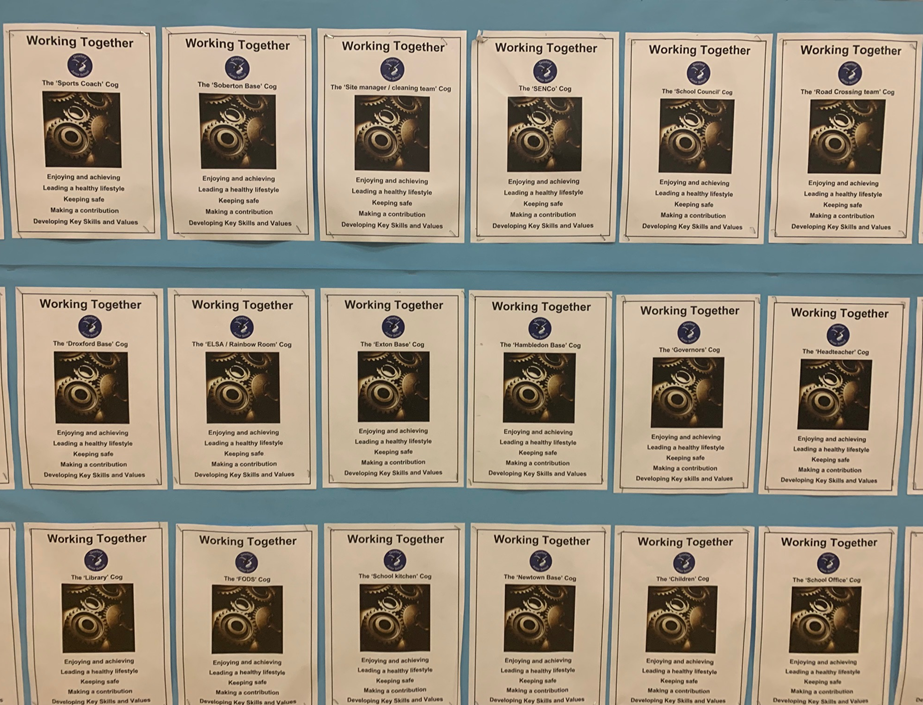 There are 12 governor posts comprising headteacher, LEA, Parent, Co-opted and Staff Governors.
Any Parent Governor vacancies will be advertised and all parents will have the opportunity to put their name forward for election. If any parent is interested in becoming a governor please contact our Clerk, Natasha Beckley n.beckley@droxford.hants.sch.uk
For more information on the role of the Governing Body, and becoming a governor, please visit: Hampshire County Council – Becoming A Governor
We aim to maintain strong links between families and the school, and welcome any comments or suggestions from parents. Anyone wishing to get in touch with the governing body should contact the school office, or email our Clerk, Ms Natasha Beckley n.beckley@droxford.hants.sch.uk